Rocketbook Academic Planner
Ditch your old school planners! Designed for students and approved by teachers, the Academic Planner is equipped with 13 different page types to give you extra credit in the classroom. Use it to manage class schedules, weekly goals, daily workloads or option (d) all of the above. The Academic Planner has innovative synthetic paper that allows you to write smoothly with a Pilot FriXion pen. Use the Rocketbook App to blast your notes to the Cloud then magically wipe your notes clean with a damp cloth. Erase and reuse to get straight A's semester after semester after semester after...
Letter Size: 8.5 in x 11 in / 48 pages
48 reusable pages with 13 different page types
Includes daily, weekly, monthly, and 6-month planner pages, as well as templates for keeping track of your school projects, class schedule, and prioritization
Built-in metric and imperial rulers for field measurements
Works with any Pilot FriXion pen, marker or highlighter for smooth writing
Pages are erasable with included microfiber cloth and Pilot FriXion pen for endless reuse
Rocketbook App scans and connects your notebook to the cloud to digitally save and share your notes
Some notebooks are good for planning, some are good for class notes. The Rocketbook Academic Planner can do it all with 13 different planning, note taking, and reflection page types plus a companion scanning app–oh and it's reusable. Compared to other notebooks, it's like the kid who does all the work in a group project.
Love it♥️
I love the rocketbook and it is my first time having one, I chose this because I am a student.. This is really great for a student specially the templates that have been made, I like the template for writing works that you can put a check because it actually works and help using the app♥️. There are several things that as a student I think it should be considered, first the templates except subject template should be at the back because we primarily use the pages for writing than planning and schedule if it is in front it would be easier to use in need, then templates are good but sacrificing a lot of pages for writing is sad for a student especially if they do not want to erase the pages they have written immediately, we as students need more pages for simple writing. But still I love it. Wish it would have its own capsule next that is also has those pockets or it is made for students also😊
DESIGNED WITH STUDENTS IN MIND
The Academic Planner was designed by educators with students in mind. Handling a full course load and extracurriculars is tough enough - let Rocketbook do the heavy liftin
OLD SCHOOL MEETS NEW SCHOOL
Not only is the Academic Planner built for optimal productivity, but it's also built for the digital age. Students can use the Rocketbook App to scan class notes and daily goals to the cloud service of their choosing (or text cool doodles to friends, of course).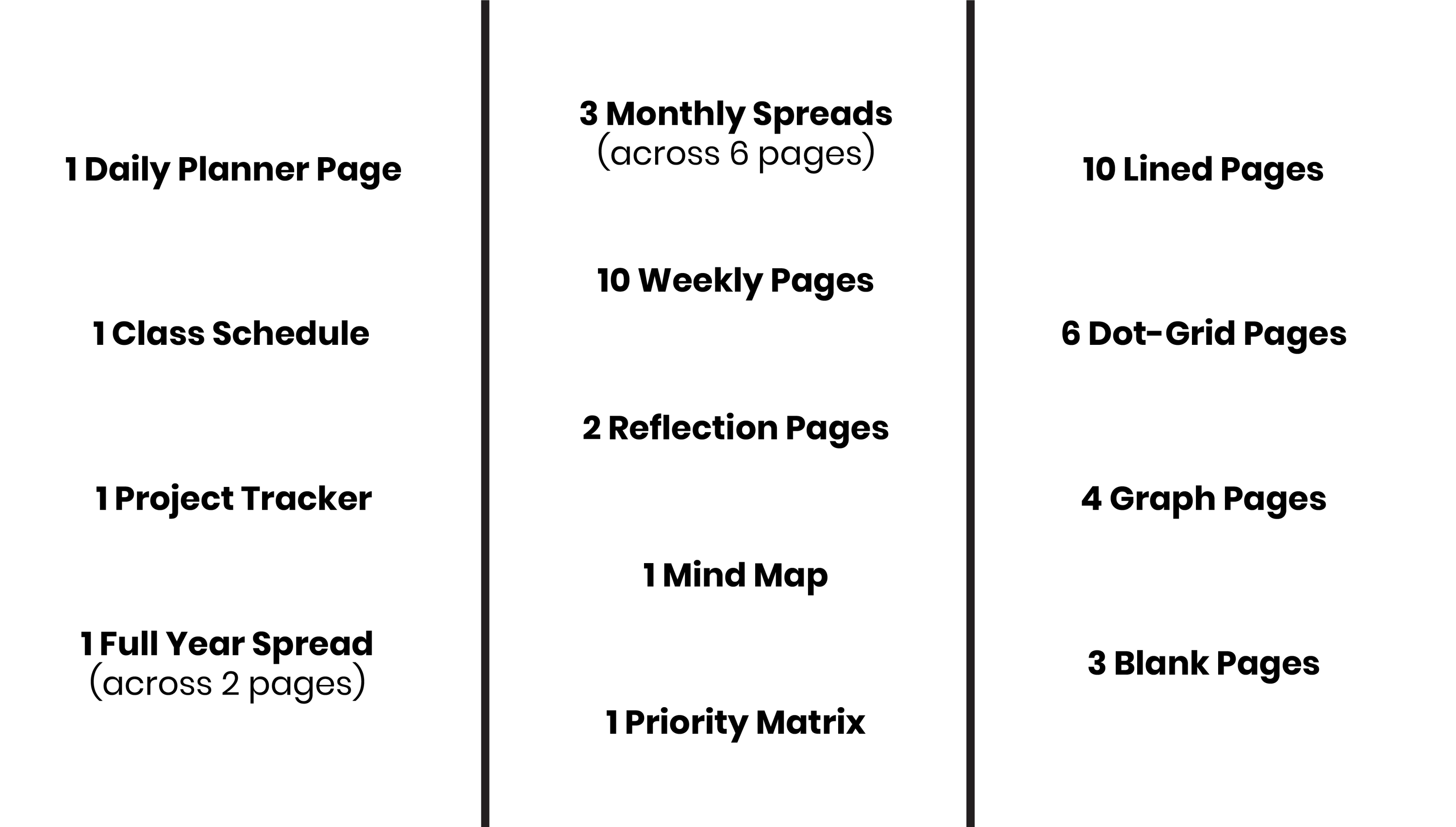 Write
Use any of our reusable notetaking products for a traditional handwriting experience - which actually makes you smarter (Google It!). We worked with several experts to develop our patented, futuristic technology, while keeping an authentic pen and paper feel.
Reuse
No more notepaper guilt! Rocketbook products can be reused, so you can stop using your other paper notebooks and save trees. When paired with Pilot FriXion ink, the pages of your Core can be wiped clean with water and a cloth!
Organize
Got an iPhone or Android? Prepare to harness the future of notes in the palm of your hand. Use the free Rocketbook app to configure popular cloud services as your scan destinations. We've partnered with some of your favorite services, but you're welcomed to stick to good ole email too!
Scan
Time for liftoff! Start scanning your notes, to-do lists, and out-of-this-world ideas. See green, snap, and your notes will be visually enhanced! Then, your scans will automatically blast off to their rightful cyber destination at the speed of light, err... your mobile connection.